This is the third level of The Curse of the Black Pearl.
Playstation3 Version
This level is titled "The Black Pearl Attacks".
In this level, the title says it all. The Black Pearl attacks
The HMS Interceptor
.
You must fire the cannons, and free Jack Sparrow from the brig. This will take awhile.
After that, you will have a cutscene, and you will then have Jack. You must now get to the upper deck. You will need to do things on multiple decks to acomplish this. You will eventually go underwater and step on a trigger. You will then go to the upper deck, but you'll lose Will Turner. You must then use the broken mast to board the Black Pearl, and defeat the Monkey.
Playable Characters in Story Mode:
Boss
Wii Version
Coming Soon
Video Walkthrough
Part 1
(Video copyright Pryingtuna85649 Game copyright Lego and TT game)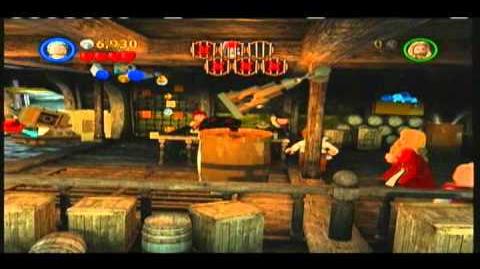 Part 2
(Video copyright Pryingtuna85649 Game copyright Lego and TT game)
Part 3
(Video copyright Pryingtuna85649 Game copyright Lego and TT game)