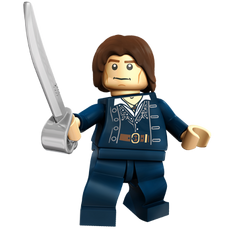 Philip Swift
is a young missionary minifigure, taken prisoner and forced to join the dangerous quest to find the coveted Fountain of Youth. As a kind and noble member of
Blackbeard's
pirate crew, Philip follows his fellow adventurers to Whitecap Bay. He may lack the tough bricks of his new friends, but his good deeds and big plastic heart may be their key to finding the springs of eternity. Phillp can be used to break ice or glass with his singing voice.
Ad blocker interference detected!
Wikia is a free-to-use site that makes money from advertising. We have a modified experience for viewers using ad blockers

Wikia is not accessible if you've made further modifications. Remove the custom ad blocker rule(s) and the page will load as expected.