Hector Barbossa is the oldest and cruel captain of The Black Pearl. He is one of the main characters in The Pirates of the Caribbean video game.  He is one of the main characters in The Curse of the Black Pearl.
Captain Hector Barbossa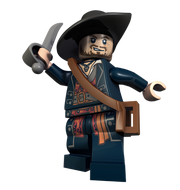 Captain Hector Barbossa is a brutish pirate captain underneath his classy, gentlemanly façade. He's after riches, revenge and freedom from curses, but he especially can't keep his hands off the Black Pearl. Haunted by supernatural terrors of the sea, he always manages to cheat death somehow. All of his treasures are at his secret hideout Isla de Muerta.
Skeleton Barbossa
Skeleton Barbossa has fought his way to Isle De Muerta to lift the Curse of the Black Pearl. By day, this cutthroat criminal of the sea hunts for the descendant of Bootstrap Bill, the key to lifting his curse. By the light of the moon, he takes on the ghostly form of a skeleton.  
British Privateer Barbossa
Captain Barbossa is back! Well, at least most of him is. Don't be fooled by his limp or missing limb, this pegleg pirate still won't be slowed in the race for the Fountain of Youth or to avenge the loss of his leg by hunting down the man he blames for his demise, Blackbeard. Barbossa is reformed from his outlaw ways and now sails under the flag of the Crown, as a privateer charged with finding the Fountain of Youth.
Gameplay
(Video copyright Pryingtuna85649 Game copyright Lego and TT games)