Once you have collected 24 gold bricks you can build a part of a mechinasim on the far side of the
Port
. Once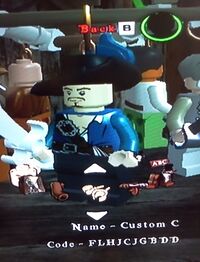 you have built this you can roll a barrel across allowing you to open the door of the shack.Once you are in there are 2 ropes on the side get both characters to pull them(by jumping) to open the curtain go up the stairs behind the curtain adn you will reach the
Character Customization
area.You can customize up to 12 characters and share them by giving your friends a generated code.

You can customize
Face
Head
Hat
Hair
Shirt
Belt
Arms
Shorts
Weapon
Name
Hands
Usercodes
These are codes people have made for other people please state the code and which console it was made on
FHJCGBDD-Wii(by Tama63)
CLLLTYCBDT-Wii(By Lord Law)
Ad blocker interference detected!
Wikia is a free-to-use site that makes money from advertising. We have a modified experience for viewers using ad blockers

Wikia is not accessible if you've made further modifications. Remove the custom ad blocker rule(s) and the page will load as expected.